150W (100°) Explosion Proof led high bay light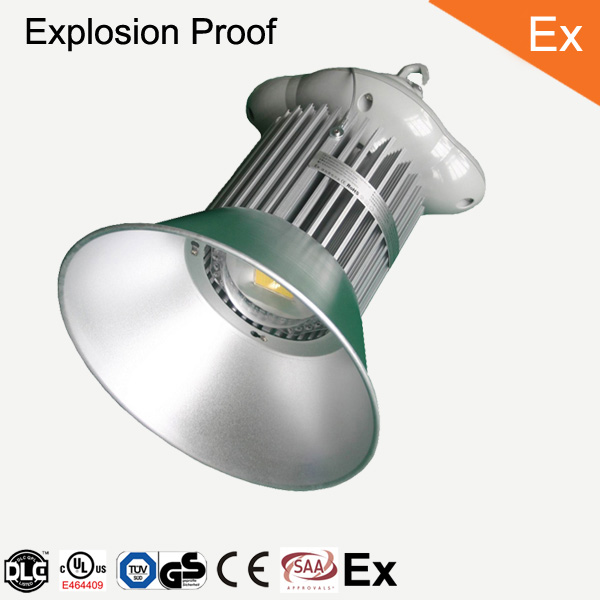 1.  Adopting MeanWell  power supply, Epistar or Cree LED Chips.
2.  Five years warranty
3. Pass UL,TUV(GS,CE),SAA certification
It's the first Anti-explosion LED high bay light in domestic,with Ex-marking "ExnR II T4GC", which access to the national explosion-proof certification by the authority.
Application
1. Gas station,processing workshop or storage warehouse for Edible Oil,food and other oil products,smelting workshop which easily producing explosive dust and gases; chemical factories,warehouses and other special places.
2. Also can applied in Factories,workshops,Cargo space,exhibition centers,shopping malls or supermarkets,stadiums,toll stations, etc.
150W (100°) Anti-Explosion led high bay light
【1】Product Appearance

Specialty:
1,Using high power COB Led and Mean well driver; the lamp's luminous efficiency can reach 80-100LM/W, and Ra >80;Fins heating dissipation design enables the LED Tj within 85℃, lifespan more than 35,000 hours ,the max power up to 200W; with protecting rate: IP65.
2, The anti-explosion high bay light is designed and certified according to standards for safety as below: GB3836.1-2010  Explosive environment Part 1:Equipment General Requirements;GB3836.8-2003 Electrical apparatus for explosive gas atmospheres-Part8: standards for "n" type electrical equipment; with Ex-marking Ex NR Ⅱ T4 Gc.
3, The light can be used at a place in which an explosive atmosphere in the form of explosive dust or combustible fibre in mixture with air is likely to occur continuously or frequently in short time, or for long periods in normal operation. According to the classification of explosion proof grade and application, the light can be use in Zone2. Surface temperature of item for safety:≤135℃,Such as chemical factory or warehouse, gas station except mines.
【2】Shape  Structure
Shell Material:Aluminum Alloy
Shell Color:hoar/ Black
Weight:12Kg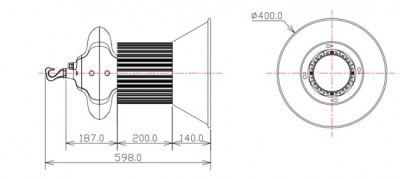 【3】Explosion-proof Parameters
(1)Explosion-proof(Grade)
Ex NR Ⅱ T4 Gc
Ex—Explosion-proof
(1)NR-Explosion proof form code of explosion proof electric equipment, nR for restrict breathing type, the others: D for explosion suppression type; IA for flameproof intrinsically safe type; MB for pouring type … .;
(2)Ⅱ-Explosion proof electrical equipment is divided into type Ⅰ,Ⅱ,Ⅲclass; class I used for coal mine gas environment; class II, III used for other explosive gases electric equipments except coal mines which can easily generate gas.
(3)T4-equipment external surface temperature range ( T4 means the temperature of any point on the external surface of UFO explosion-proof mining lamp ≤ 135 ℃);
(4)Gc-Electric equipment protection level, and has a corresponding relationship to its used place, Gc level of protection for the general, and it can be used in explosive gas environment –Zone 2;
(2) Hazardous area classification
Explosive substance
Area definition
Chinese standard
Foreign standards
Gas(ClassⅠ)
Under normal circumstances, the explosive gas mixture continuously or long time existence.
Zone 0
Div.1
Under normal circumstances, the explosive gas mixture is likely to existent site
Zone 1
Under normal circumstances, the explosive gas mixture is not possible appear, Only in abnormal circumstances, occasionally or short time existed site ;
Zone 2
Div.2
Dust or fiber(ClassⅡ/ClassⅢ)
Under normal circumstances, explosive dust or combustible fibre and air mixture may be continuous, a short time frequent appear or long time existence.
Zone 10
Div.1
Under normal circumstances, explosive dust or combustible fibre and air mixture can not appear, just in case of abnormal condition, occasionally or short time appears.
Zone 11
Div.2
(3)Gas temperature group
Temperature category
Explosion proof electrical equipment surface temperature
Common explosive gas
T1
≤450℃
Methane、Toluene、Methyl ester、Ethane、Propane、Acetone、Acrylic acid、Benzene、Styrene、Carbon monoxide、Ethyl acetate、Acetic acid、Chlorobenzene、Methyl acetate、Ammonia、Acrylic ester、Two ether、City gas、Hydrogen、Water gas
T2
≤300℃
Methanol、Ethanol、Ethyl benzene、Propyl alcohol、Propylene、Butyl alcohol、Butane、Butyl acetate 、Amyl acetate、Cyclopentane、Butadiene、Epoxy propane、Ethylene、Acetylene
T3
≤200℃
Pentane、Amyl alcohol、Hexane、Hexyl alcohol、Heptane、Octane、Ring of ethanol、Turpentine oil、石Naphtha、Petroleum (gasoline )、Fuel oil、Amyl alcoholfour、Two ether、Acrolein、Hydrocarbon
T4
≤135℃
Acetaldehyde、Tetrafluoroethylene、Trimethylamine、Ethyl ether、Two ether
T5
≤100℃
Carbon disulfide
T6
【4】Parameter
| | | | |
| --- | --- | --- | --- |
|  Input Voltage |  AC100~240V | Color Rendering Index | Ra>80 |
|  Frequency Range |  50~60Hz |  Beam Angle |  100° |
|  Power Factor |  >0.95 |  LED Reduction Rate |  1~3% / 1,000Hrs |
|  Power Efficiency |  >87% |  Color Temperature |  2700~7000K |
|  LED Working Voltage |  DC30~36V |  Working Temperature |  -20℃~+45℃ |
|  LED Power |  150W |    IP Grade |  IP65 |
|  Total Power |  170~175W |  Working Life-span |  >35000H |
|  Luminous Efficiency |  80~100lm / W |  Power line |  VDE  3×1.5mm2 |
|  Connect wire |  Brown→L |  Blue→N |  Yellow or Green→G |
【7】Illumination Distance/illuminance/IrradiatedArea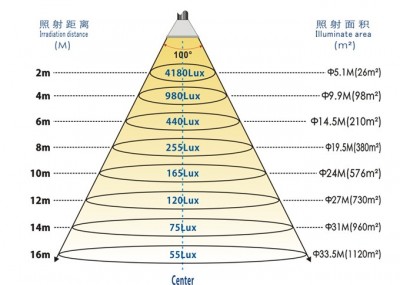 【8】 Packing  specification
Body(L)412×(W)312×(H)508mm    1PC/CTN    13.5Kg
Reflector(L)432×(W)432×(H)534mm    10PCS/CTN   4.5Kg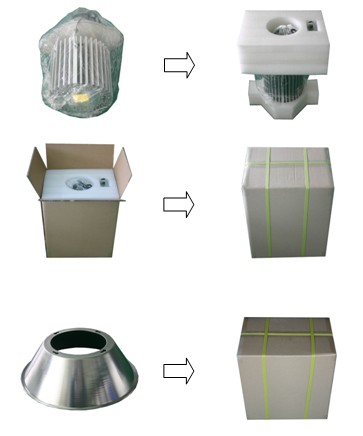 Tags:
Anti-Explosion led high bay light