30W RGB led flood light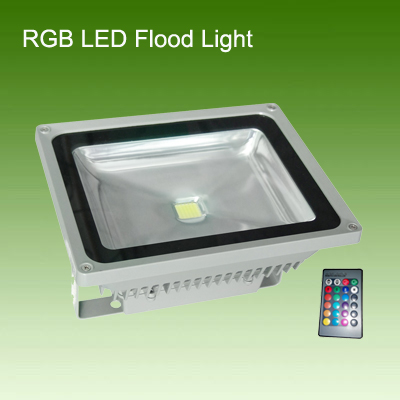 LED flood light applications: Billboard lighting,building exterior landscape lighting,high-pole lighting,road lighting,gardens lighting, etc.
30W RGB Flood light led
【1】Product Appearance
Specialty:
【a】 Adopting integrated Chip as light source,Green light wavelength 520-530nm,Red light wavelength 615-625nm,blue light wavelength460-470nm, good heat dissipation, low light degradation.
【b】Aluminum alloy die cast housing, good strength, high quality heat dissipation. anti corrosion and baking varnish surface, can be for outdoor using.
【c】Make a dedicated luminous intensity distribution design via the aluminum reflector, there are two options for lighting distribution, one is for focusing, another is for diffusing.
【d】Wide Input Voltage from 100V~240VAC,constant voltage constant current output, can start up at once, no flicker, lightning protection, PFC function available.
【2】 Shape Structure
Shell Material: Aluminum Alloy
Shell Color: hoar/ Black
Weight:2.5Kg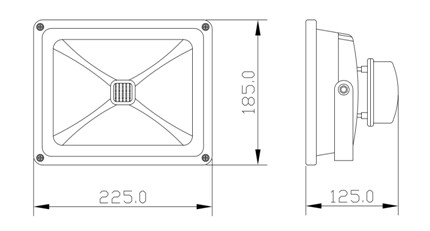 【3】 Parameter
Input Voltage

AC100~264V

The light source wavelength
Red 615-625 nm
Blue 460-470 nm
Green 520-530 nm
FrequencyRange

50~60Hz

Beam Angle

80°

LED Working Voltage

DC15~30V

Working Temperature

-20℃~+45℃

LED Power
Red 7.8 W
Green, 12.5 W
Blue 13.6 W
IP Grade

IP65

Total Power

30W

Working Life-span

>35000H

LED Reduction Rate

1~3% / 1,000Hrs

Power line

VDE  3×0.75mm2

Connect wire

Brown →L / Blue→ N/Yellow or Green →G
【5】Packing specification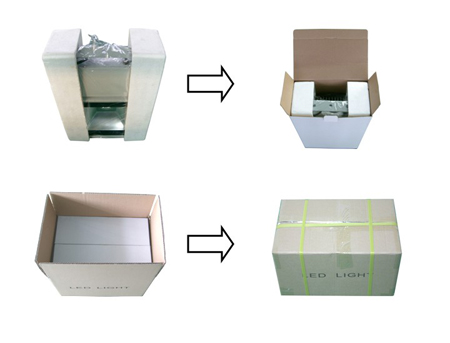 【6】Instructions on the use of the remote control: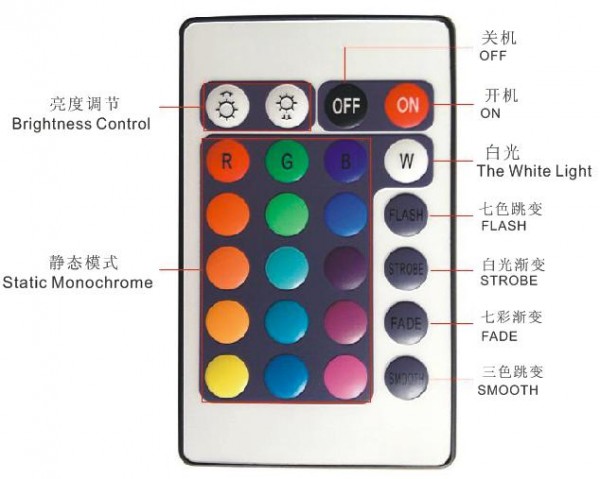 【7】FAQs Approach:
Failure Phenomenon
Analysis
Solution
LED unworkable
Wrong Wiring
reconnecting the power line
LED Broken
Change LED
Driver problem
Repair or change driver
Wrong driver connecting
Rewire
LED lights flickering
The input voltage is not in the specified range
(AC100-240V 50/60Hz)/Input the correct working voltage 100~240VAC,50~60Hz
Driver problem
Repair or change driver
【8】 Notes for using and maintenance
1.Due to work for a long time, the surface will unavoidable attach some dust and debris, it will directly influence the radiating and lighting effect of the lamp, regular maintenance is necessary, generally the  maintenance cycle is 8 to 12 months;
2.During the process of maintenance, please check if all the parts are in good condition, whether there are loose screws or not, if so, please twist it tightly in time and if there are damaged parts, please replace them for normal use soon;
3.If the surface is treated with a sum of a dust and debris, please make cleaning by proper tool, keep clean of lens in particular, if there is dust attached, to avoid the bad impact on the lighting effect due to the scratch or chemical reaction of the lens, please do not use corrosive or volatile liquid to do the cleaning job, clean water or special cleaning agent is recommended.
4.If there is unworkable or flickering LED lights, crack or damaged on the lens, please contact with the supplier directly if you are not sure for your repairing job.
Tags:
RGB led flood light