Induction LED High Bay light 50W-300W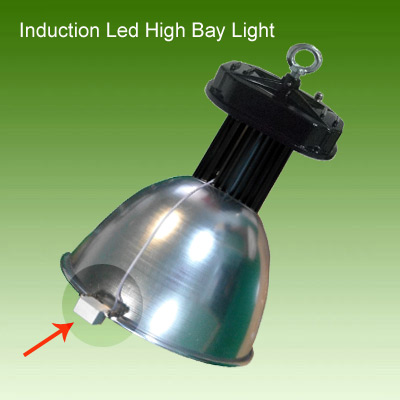 1.Characteristics:
Microwave induction components adopt Doppler principle, transmitting and receiving general 5.8GH frequency microwave signal by flat plate antenna, controlling lamp and auto- induction device by output high-low- electric level after signal processing.
Microwave induction device has strong anti-interference capability and without blind spots.
Dimming luminance can be set according customers' requirement, when have person in luminance 100%, when no person in  luminance automatic regulation to 30%. (Dimming luminance can be set during 5-100%)
This Microwave inductor widely used in our LED high bay light 50W-300W, LED floodlight 50W-300W. Must be use supported by 0-10V dimmable driver, and installation at edge of lampshade.
2.Applicaton:
This Microwave induction LED high bay light are widely use in warehouses, workshops , Exhibition halls etc.
3.Technical Parameters:
| | |
| --- | --- |
| Optimal induction distance | Height 5 meters, radius 6 meters circular area |
| Induction angle | 30°-170°(Detection area 360 degree) Vertical installation maximum induction distance (Height 7 meters ,radius 8meters) |
4.Electric Parameters
| | |
| --- | --- |
| Input Voltage | AC100~240V |
| Driver Frequency | 50~60Hz |
| Work Voltage | DC5V |
| Work Current | ≦30mA |
| Microwave Power | ≦1mW |
| Induction Principle | Doppler |
| Antenna Type | Planar Antenna (Directional Detection) |
| Detection Angle | 30°-170º(Detection area 360 degree) |
| Induction Distance | Diameter(general)10-16M |
| Start-up Time | 30S |
5.Microwave Sensitive area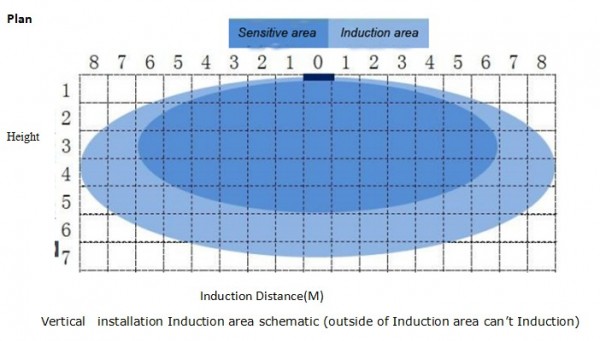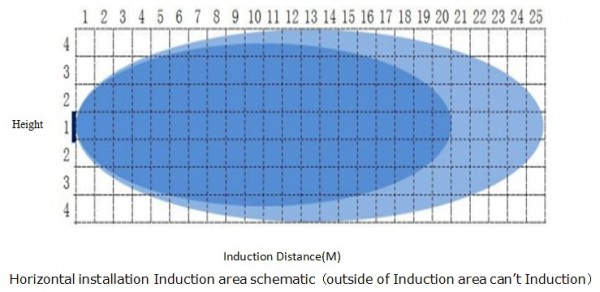 6.  Installation and use instructions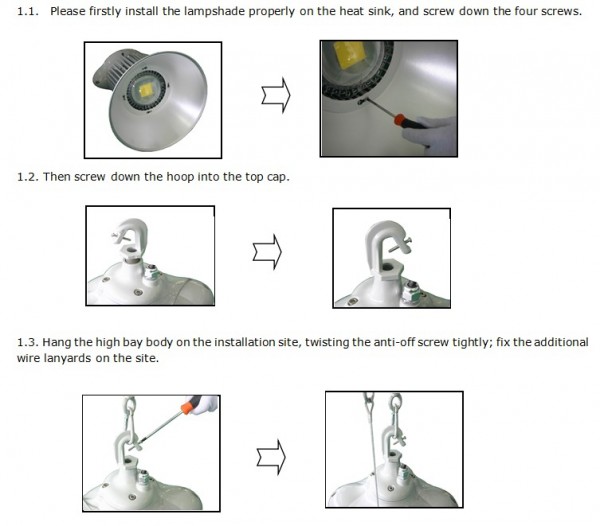 7.Solution for normal problem:
Problem Description
Analysis
Solution
will not light up (Within the detection range will not light up)
LED Broken
Change LED
Driver problem
Repair or change driver
No power input
To confirm if the power plug is on
Detection range with person but lights fal
input voltage exceed prescribed limit
Input the correct working voltage 100~240VAC,50~60Hz
LED lamp flicker
driver failure
Repair or change driver
8.The use of the matters needing attention
After a long time use, the lamp surface will attach some dust and other debris, which will directly affect the heat dissipation and glow of the lamps, so need for regular maintenance of the lamps, the general maintenance cycle is 8 to 12 months.
Maintenance focus on check each component of lamps in good condition, no loose screws and other anomalies, if any loosening (after good protection measures) please tighten. if there are damaged parts, must be replaced before normal use;
If the lamp shell surface are subject to dust and other debris, it need tools to clear, with particular attention to keep the lens surface clean. If there are debris, please try not to use corrosive and volatile liquid cleaning agent in order to avoid the lens surface scratches and chemical reactions, which will effect the luminous intensity and lighting of the lens, it is recommended to use fresh water or special cleaning agent.
If the LED lamp is not lit or flashing, the lens appear crack damaged, and you don't have the ability to replace it. Please contact directly with the supplier to deal with it.