Led street light (Explosion proof) 120W-150W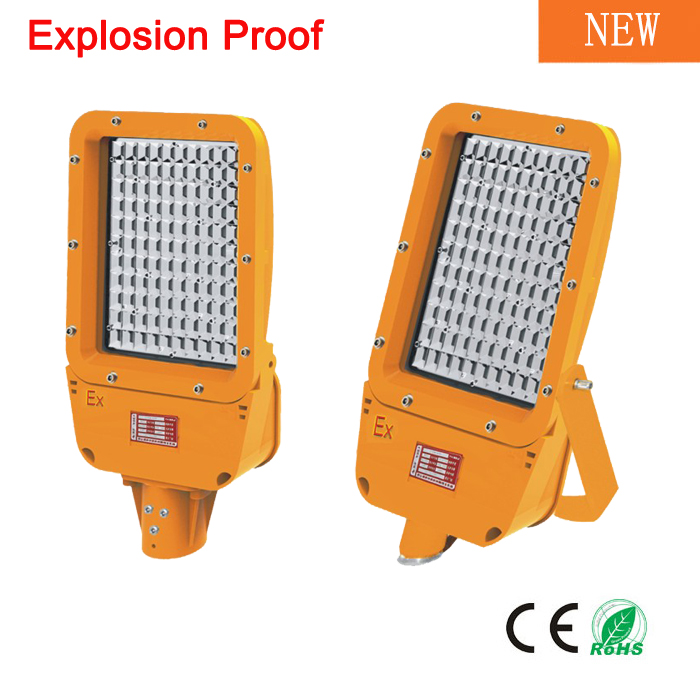 一.Specialty:
【1】Adopt high brightness LED light source, and cooperate with high efficiency constant current driving power supply, which is 60% less than gas discharge lamp;All LED components are sealed, waterproof and dustproof, without internal cleaning and maintenance.
【2】The shell of explosion-proof lamp is made of aluminum alloy high-pressure casting, and the surface is sprayed by high-pressure electrostatic spraying after blasting, which effectively improves the heat dissipation performance of the shell.
【3】The electric substrates are pressed into the aluminum alloy shell, which can convert the point heat source into a surface heat source instantly, and the heat dissipation area is multiplied, which is conducive to the rapid dispersion of heat and the efficiency of heat dissipation.
【4】The surface of the shell has air flow dispersing groove, and the heat is carried away by air flow.The heat dissipation reservoir has a high density, which greatly improves the heat dissipation area and fully guarantees the cooling requirements of the LED, and the service life is longer.
【5】Make full use of the performance of lamps and lanterns for each type of lighting fitting;
【6】The light source and power supply adopt a one-piece structure, the power supply cavity is independent, and the lamp installation and replacement is convenient;
【7】This series of lamps and lanterns are exempt from maintenance products and energy conservation and environmental protection;
【8】Exposed fasteners are made of stainless steel with high corrosion resistance.
二.Application:
【1】Explosion-Proof:Exd ⅡC T6 Gb/Ex tD A21 IP65 T80℃;
【2】It is suitable for the area 1 and 2 of the explosive gas environment;
【3】 It is suitable for the area 21 and 22 of combustible dust environment;
【4】Applicable to the explosive gas environment of IIA, IIB and IIC;
【5】Applicable to temperature group of t1-t6 group;
【6】Suitable for energy conservation projects, and places which is difficult for maintenance and replacement ;
【7】Suitable for moisture environment , environment with corrosive gas, and high requirements for protection;
【8】Widely used in oil exploration / refining, chemical, military and other dangerous environments and offshore oil platforms, tankers and other places; Long-distance floodlighting and street lighting.
Shape and Structure Sharacteristics
Shell Material:Aluminum Alloy
Shell Color:yellow
Net Weight:
Unit:mm ±2mm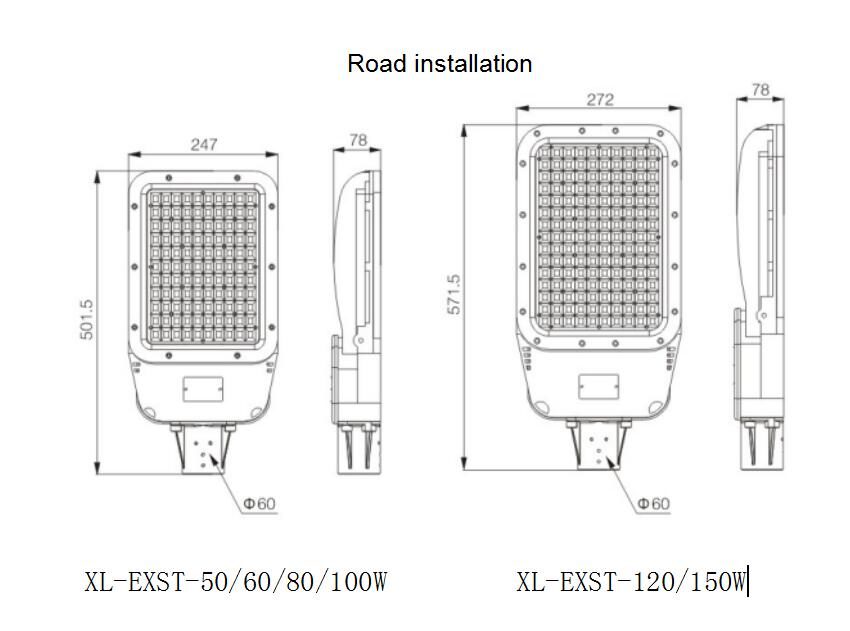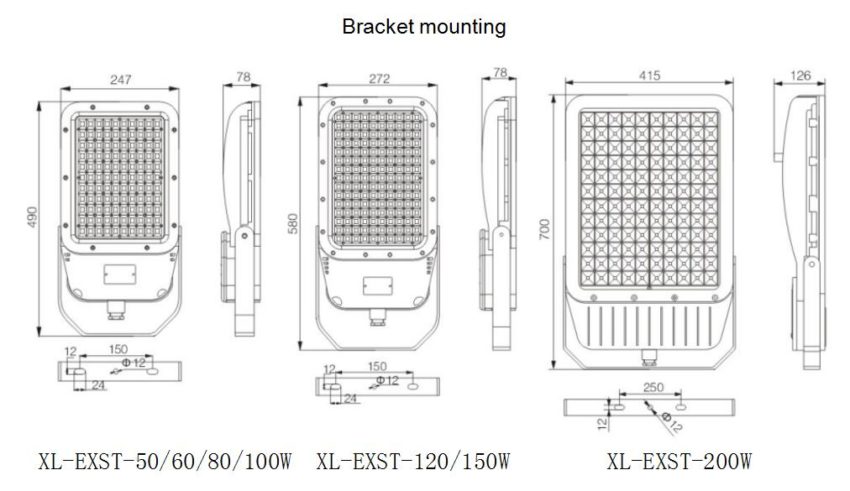 Parameters
Input Voltage
AC90~305V
Color Rendering Index
Ra>70
Frequency Range
50~60Hz
Beam Angle
60°
Power Factor
>0.95
LED Reduction Rate
1~3% / 1,000Hrs
Power Efficiency
>90%
Color Temperature
3000~6000K
LED Working Voltage
DC33-36V
Working Temperature
-20℃~+45℃
Total Power
–
IP Grade
IP65
Luminous Efficiency
80-100lm / W
Working Life-span
>50000H
Power line
VDE  3×1.0mm2
Packing specification
Model
Size

(mm)

Weight

(kg)

Model
Size

(mm)

Weight (kg)
XL-EXST-50W
540*280*120
6.9
XL-EXST-60W
540*280*120
7.2
XL-EXST-80W
540*280*120
7.6
XL-EXST-100W
540*280*120
8
XL-EXST-120W
610*310*120
10.2
XL-EXST-150W
610*310*120
10.5
XL-EXST-200W
740*440*170
19.5
–
–
–
Using and installation instructions
Attentions:
1.A licensed electrician must undertake this installation. Please check the lamp carefully before installation;
2.Please choose related accessories to be purchased according to the installation mode ;
3.Special requirements please specify;