Home > Company News > New Product–Anti-Explosion LED High Bay Light
New Product–Anti-Explosion LED High Bay Light
[1]Using high power integrating LED, the lamp's luminous efficiency can reach 70~80LM/W, and CRI>80Ra;Fins heating dissipation design enables the LED Tj within 85, and power up to 200W, lifespan more than 35,000 hours; with protecting rate:IP65.
[2]The UFO high bay light is verified and certified according to standards for safety as below:GB3836.1-2010 Explosive atmospheres Part 1:Equipment General Requirements GB3836.8-2003 Explosive atmospheres Part8:Electrical apparatusfor explosive gas atmos-pheres-Part8:Encapsulation "n" with Ex-marking ExnRIIT4Gc.
[3]Normally,a place in which an explosive atmosphere in the form of explosive dust or combustible fibre in mixture with air is likely to occur continuously or frequently in short time, or for long periods in normal operation. According to the classification of explosion proof grade and application, the light can be use inZone2.Surface temperature of item for safety:≤135,such an area lighting site like factory,warehouse,except mine.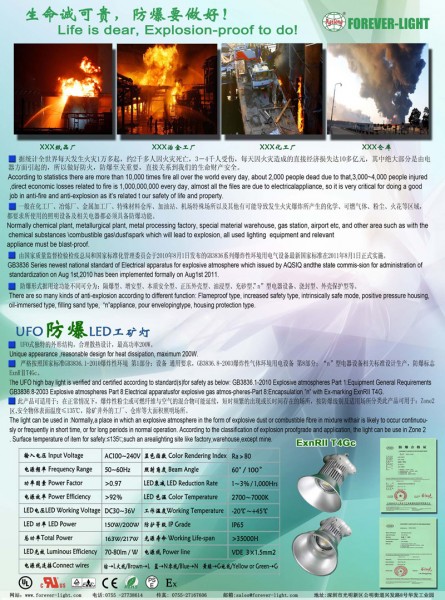 Tags:
Tag Company News